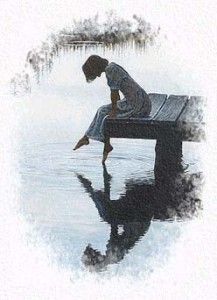 Consider it pure joy, my brothers whenever you face trials of many kinds, because you know that the testing of your faith develops perseverance. Perseverance must finish its work so that you may be mature and complete, not lacking anything.
James 1:2-4
I wrote the following message for my church and I hope it blesses you to read it…  
Before I developed ALS and became a Christian, I dealt with my trials and tribulations by getting through them as fast as humanly possible. I never saw anything good come from them. They were always hard and they often brought grief and pain. My appendix burst when I was twenty. My surgeon said I was lucky to be alive. My recovery took a month and I didn't feel very lucky. After months of trying to get pregnant I finally did and then miscarried the baby. My husband and I were devastated. At one point in my life, I became estranged from a childhood friend. The list could go on and on. My advice on how to deal with trials was to avoid them.
In 1997 when my body began showing signs of weakness, I had no idea I was beginning the biggest trial of my life. There would be no avoiding this one. I soon found I was ill equipped to deal with having ALS. As my options dwindled I came to know Christ. I asked God to let me see Him because I needed to know if this faith that He talked about was real. He started letting me see Him everywhere and through everything. Every obstacle and every need I had was being taken care of. I was able to see God's name written on all of it. I felt like I was the only one in the whole world that God was looking after. It's like God said, "Look I am here, and I'm not leaving. Everything you need, I am here to take care of you." It was amazing. It was wonderful. It wasn't just one or two things but everything. I was overwhelmed how God was showing me that He would take care of me, whether it was getting a haircut, having relief from painful symptoms, or providing a meal for my family. That is when I knew that being able to have faith in the midst of a terrible situation was real. As a new believer, whenever I read in the Bible to "rejoice" in suffering I thought that was easy for them to say. They didn't have ALS. I was sure that I would never rejoice over having ALS. I didn't understand what that really meant. I hadn't yet experienced true joy.
Here is one way that God showed me how to have joy in the midst of my trial. Last year a man named Joe visited my web page and left a message that said he felt God was on vacation. I emailed him and asked why. I told him about what God did for me.   Months passed and I did not hear back from him. One day I was praying and told God I wanted to do a lot more for him but felt useless. I said look at me, my hands don't work, I can't talk—what can I do that will make a difference? God promptly answered me.   I got an e-mail from Joe saying, "Just love your page, I'm not lost anymore, in Jesus. Well peace be with you Joe." I cannot adequately describe for you the incredible force of joy that surged through my soul when I read Joe's e-mail. My trial and my struggles helped Joe find Jesus! Oh, how I rejoiced!
All along I thought I had to be well to make a difference. I thought I had to be well to do things to help other people or to speak for Jesus. But that day I realized that God could use me to make a difference for Him with what I could do, not with what I couldn't do.
It is only through what God continues to show me by trusting in him that gives me the courage to face each day with ALS. When someone else starts to see Jesus because of the strength He gives me or when someone seeks to know Jesus because they want the same peace that I have in the midst of this turmoil, there is where the Joy comes into the picture.
Has having ALS tested my faith? Yes and No. I didn't have any faith before I developed ALS. This trial has caused my faith to awaken and grow by leaps and bounds. My faith is all I have. The world holds nothing for me now. That doesn't mean everything is all rosy. I still have days that are dark. My faith is being tested every day. It is not easy to sit and watch my husband bear the load that has been given to him. It is extremely frustrating to see my children dissolve into tears because they don't know what Mommy is saying. Through it all I keep my faith because of what Paul tells me in 1 Thessalonians 5:18 "give thanks in all circumstances, for this is God's will for you in Christ Jesus." God has proven Himself to be faithful. I don't like this trial, but I have to admit what I've learned about God through it is priceless. I am determined to live now more for God, than for myself. For me there is no other response.
Last year at the Women's Christmas Special, I had the opportunity to tell several hundred women what God has done in my life. It was a wonderful experience. I realized that night just how good this trial has been for me. It has humbled me.   It has strengthened me. It has shown me the source of true Joy…Jesus Christ. What is my advice now on how to deal with trials? Embrace them don't avoid them. Ask God to show you what He wants you to learn. He will and you will grow stronger in your faith. There is pure joy in knowing Jesus and sharing Him even during your toughest trial.
Original Painting "Silhouettes" © Tom Sierak


Copyright ©2016 Meetmyfriend.com